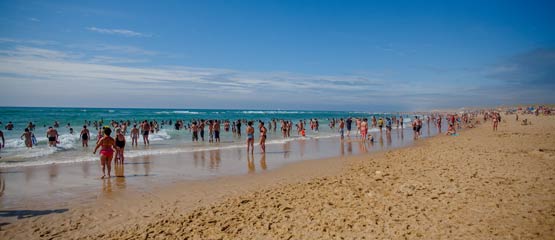 Camping located on the Atlantic coast
In the Médoc region, the endless ocean beaches are incredibly beautiful : from the well-known beaches of Lacanau to the ones located at the tip of the Médoc region, we will know how to advise you according to your wish, since each one has its charms and its particularity.
For surfing, bathing, paragliding, sunbathing and even naturism, you can chose between many beaches easily accessible by car thanks to their huge car park area, or, on the contrary, set off to explore hidden beaches, accessible only on foot or by bicycle.
Every day, Le Bon Coin Campsite will be the perfect starting point to explore the diversity of these areas.














Camping Gironde en bord de mer
Outre son cadre naturel, la qualité de ses infrastructures et de ses hébergements de standing, le camping familial Le Bon Coin à Hourtin séduit pour son excellente situation géographique. Il est situé au bord du deuxième plus grand lac d'eau douce de France après le lac Léman, le lac d'Hourtin et de Carcans, à quelques minutes en vélo de l'Océan Atlantique et des plages océanes qui s'étendent sur plusieurs kilomètres.
Le camping est non seulement proche de la Côte d'Argent, mais aussi au cœur du Médoc. Il se trouve à environ 25 km de l'estuaire de la Gironde et de ses célèbres phares (phare de Cordouan, phare de Grave) et des charmants ports estuariens : port de By (Bégadan), port de Saint-Christoly-Médoc et port de Lamena (Saint-Yzans-de-Médoc).
Le camping situé sur la côte atlantique vous permettra de profiter pleinement de votre séjour en Gironde, entre amis ou en famille.
Camping à 20 minutes de la plage d'Hourtin
Vous rêvez de vacances en famille les pieds dans l'eau ? De louer un catamaran pour offrir à vos enfants leur baptême de voile ? Au camping Le Bon Coin en bord de plage, tous vos vœux seront exaucés. Depuis notre hôtel de plein air, comptez environ 20 minutes pour rejoindre la plage d'Hourtin, une des plus belles plages de la Côte d'Argent. Protégée par les dunes et les pins, cette vaste étendue de sable fin fait face à l'immensité de l'océan Atlantique.